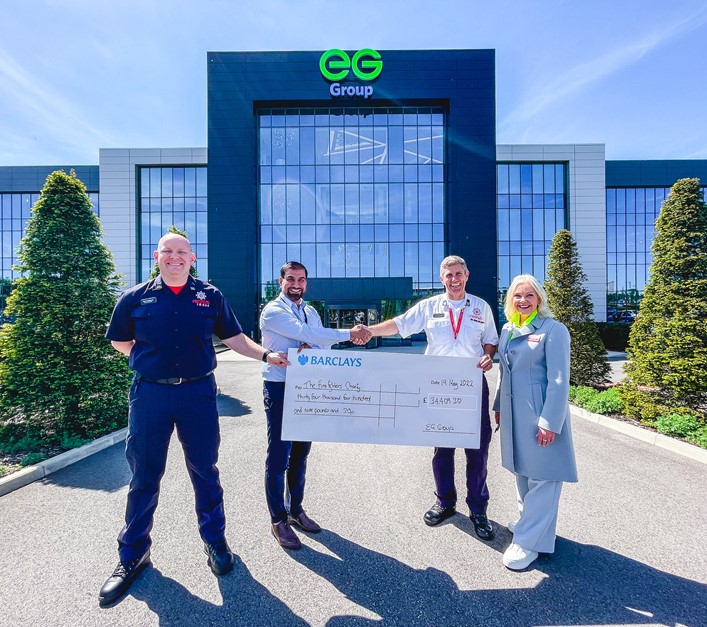 Partnerships
EG GROUP RAISES MORE THAN £34,000 FOR THE FIRE FIGHTERS CHARITY DURING FOUR-MONTH PARTNERSHIP
EG GROUP RAISES MORE THAN £34,000 FOR THE FIRE FIGHTERS CHARITY DURING FOUR-MONTH PARTNERSHIP
EG Group is pleased to announce that it has raised over £34,000 for The Fire Fighters Charity.
Every year, The Fire Fighters Charity provides support to thousands of fire and rescue service personnel as well as their families, and this partnership gave us the opportunity to work together to raise awareness of the vital support on offer to the fire services community.
Throughout the four-month partnership, EG held a number of events at their Head Office in Blackburn and made its UK sites fully available to the charity for collections and fundraising activities. A number of events were held, including a charity car wash, prize raffles, a Cinnabon promotion, as well as additional fundraising activities, such as marathons which colleagues took part in.
Ruth Powell, Director of Engagement and Fundraising at The Fire Fighters Charity, said: "We're so grateful to EG Group and all of its employees for this incredibly generous donation.
"EG Group staff and members of the public have really gone the extra mile to support us over the last four months, and the results speak for themselves. These valuable funds will go a long way towards helping our fire and rescue service community, providing them with the support that they deserve.
"On behalf of everyone at The Fire Fighters Charity, I want to say a huge thank you to all involved along the way and we look forward to working with EG Group again in the future."
Mohammed Tayab, Food & Beverage Director - Europe at EG Group said: "We are proud to have raised such a fantastic amount of money for The Fire Fighters Charity, our first charity partner of 2022. Thank you to all those who donated and got involved in fundraising, as well as helping to raise awareness of all the incredible work that the charity does on a daily basis."