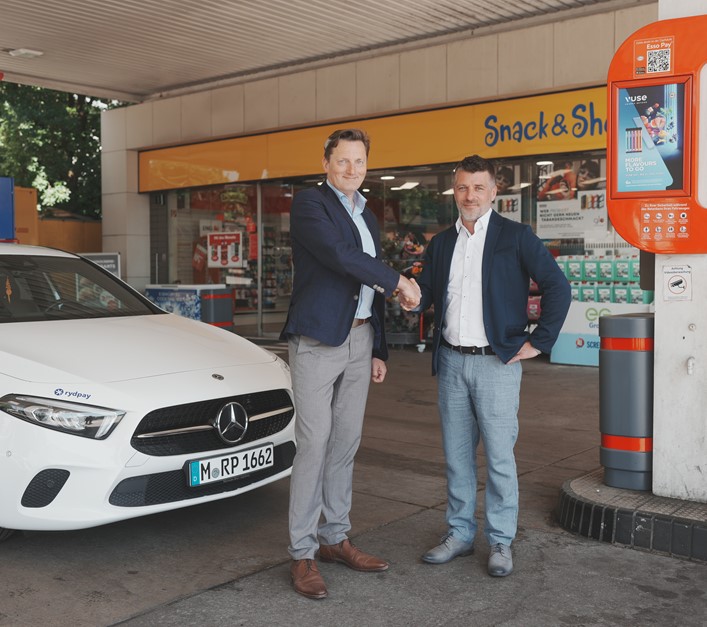 Partnerships
EG GROUP PARTNERS WITH RYD TO ENABLE DIGITAL FUELLING AND IN-CAR PAYMENT AT ESSO AND OMV PETROL FILLING STATIONS IN GERMANY
EG GROUP PARTNERS WITH RYD TO ENABLE DIGITAL FUELLING AND IN-CAR PAYMENT AT ESSO AND OMV PETROL FILLING STATIONS IN GERMANY
EG Group is pleased to announce its partnership with ryd in Germany, a leading provider of the biggest B2C ecosystem for digital fuelling solutions.
The partnership aims to bring cutting-edge digital fuelling and in-car payment solutions to Esso and OMV Petrol Filling Stations across Germany, making the refueling process smoother and more convenient for drivers.
With the rapid adoption of digital payment, the partnership between EG Group and ryd comes at a time of growing demand for innovative solutions to enhance the refueling experience. Both EG Group and ryd will capitalise on their expertise to make the transition to the future of transportation even easier for drivers.
The digital fueling solution is set to be rolled out across EG Group's Esso branded Petrol Filling Stations in Germany with plans to activate 260 OMV stations and integrate them in the ryd ecosystem in stage two. The launch for the first pilot stations is scheduled for the end of 2023 with additional sites across the EG Group estate in other markets set to follow.
ryd will provide its advanced digital fuelling and in-car payment technology at Petrol Filling Stations, enabling drivers to refuel their vehicles and pay directly from their cars. The partnership will not only provide drivers with more convenience, but also drive more volume into ryd's network.
Thomas Kempf, Director Sales & Mobility at ryd, said: "We are committed to a clear goal at ryd: growth. Thanks to the partnership with EG Group and the associated ESSO and OMV gas stations, on the one hand the ryd network is growing to a new all-time high, and on the other hand even more drivers have the opportunity to refuel and pay with ryd."
Heiko Thieme, Fuels Manager of EG Germany, said: "At EG Group, we are always looking for innovative solutions to enhance the refueling experience for our customers. Our partnership with ryd aligns with our commitment to innovation, and we are thrilled to bring this technology via ryd to our customers."