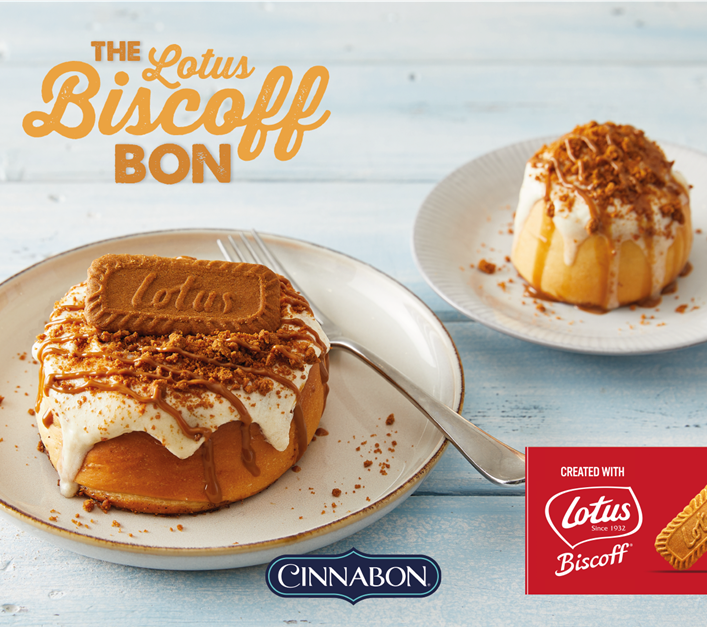 Partnerships
Cinnabon UK Partners with Lotus Bakeries
Cinnabon UK Partners with Lotus Bakeries
US bakery giant, Cinnabon and Lotus Bakeries have announced an exciting new partnership, in what will be the company's first brand collaboration in the UK.
The pair have joined forces to create three indulgent treats which are hitting 28 Cinnabon counters across the UK this September. EG Group is the master licensee for Cinnabon in the UK.
With three different sizes to choose from, the iconic caramelised flavour of Lotus Biscoff perfectly pairs with Cinnabon's aromatic freshly baked dough to create the most decadent of flavour combinations.
Frances Booth, UK Category Marketing Manager at Lotus Bakeries is delighted to be partnering with Cinnabon UK's master franchisee, EG Group: "We love nothing more than working with new partners to bring our customers exciting new creations that provide a whole new Lotus Biscoff taste experience out of home. We know that combining the on-trend and much-loved flavour of Lotus Biscoff with Cinnabon's iconic cinnamon roll recipe is a winning combination and we can't for our customers to taste this delicious collaboration!"
Mohammed Tayab, Food & Beverage Director for Europe at EG Group, said: "We are excited to be partnering with Lotus Bakeries to serve our customers the 'perfect pairing'. At Cinnabon locations across the UK, guests can enjoy the famous aroma of warm dough and cinnamon, along with ooey-gooey™ treats and with the addition of the Lotus Biscoff Bon, our guests are surely in for a delectable delight."
The Lotus Biscoff bons will be made fresh in stores each day and are available at Cinnabon counters across the country as well as delivery partners; Deliveroo, JustEat and UberEats.