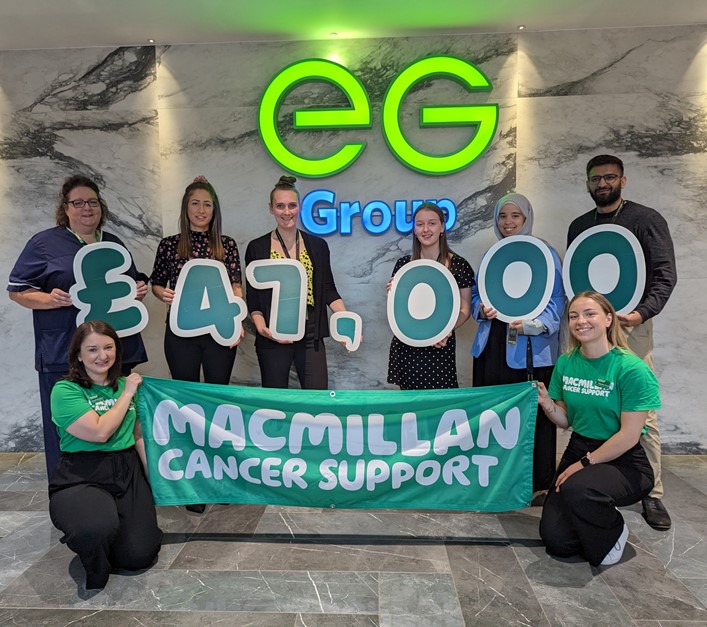 Sustainability
EG GROUP RAISES £47,000 FOR MACMILLAN CANCER SUPPORT AND ANNOUNCES NEW CHARITY PARTNER
EG GROUP RAISES £47,000 FOR MACMILLAN CANCER SUPPORT AND ANNOUNCES NEW CHARITY PARTNER
EG Group is pleased to announce that it has raised more than £47,000 for Macmillan Cancer Support, the UK's leading cancer care charity, following a four-month partnership.  
Macmillan's purpose is to do whatever it takes to support people living with cancer. One in two people in the UK will get cancer. Macmillan is a lifeline when cancer hits and is there to help people with cancer live life as fully as they can, by providing physical, financial, and emotional support across the UK.
Throughout the partnership, EG Group raised funds for Macmillan across its network of sites in the UK, setting up over 1,500 donation banks where both colleagues and customers could donate. Colleagues also participated in fundraising events including a Macmillan 'Chai' Morning and a hike in the Yorkshire Dales.
Mohamed Valli, Foundations & CSR Manager at EG Group, said: "We are proud to have donated such a fantastic amount to Macmillan Cancer Support and are thankful to our colleagues and customers for their generous, continued support. With the great work that Macmillan's teams carry out every day, we're optimistic that our donation will help Macmillan achieve its goal of bringing forward the day when those who need it get life-transforming support from day one."
 Anne Eaglesfield, Head of Corporate Business Development at Macmillan Cancer Support, said: "We would like to say a massive thank you to EG Group and members of the public for their incredible fundraising over the last 4 months. We are so grateful for everyone who has donated and taken part in all the activities, it has been brilliant to see the commitment and dedication to raising much needed funds.
Macmillan's support for people living with cancer is in more demand than ever. The money raised by EG Group will enable us to continue to provide the vital services that mean so much to people living with and affected by cancer. Support from partners like EG Group and the incredible fundraisers allow us to continue to do whatever it takes for people living with cancer - a huge thank you."
EG Group is also pleased to announce its final charity partnership of 2023 with the NSPCC. The money raised throughout the partnership will go towards preventing abuse, helping rebuild children's lives, and supporting families.