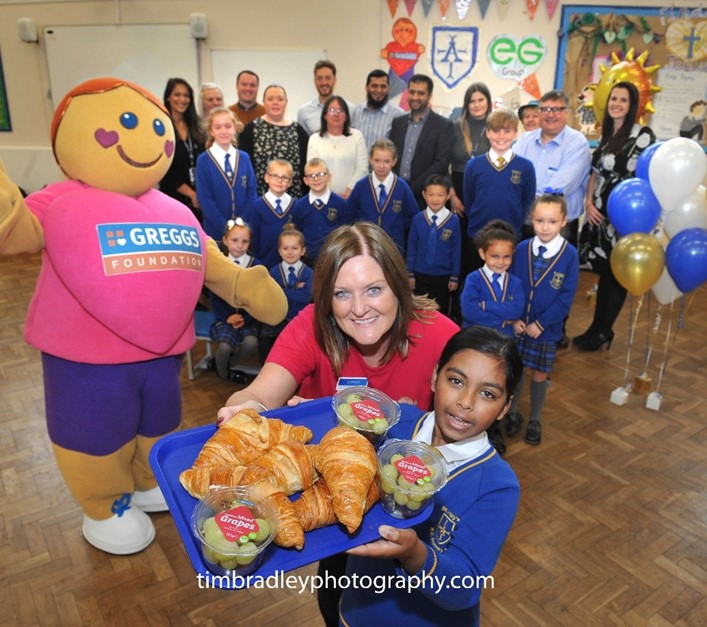 Sustainability
"No child will go hungry" – EG to sponsor breakfast club
"No child will go hungry" – EG to sponsor breakfast club
Yesterday marked the start of St Antony's Roman Catholic School's new and improved breakfast club, sponsored by Euro Garages and the Greggs Foundation.
St Antony's School had this to say: "We were delighted to welcome parent volunteers, children and visitors to the launch of our new Breakfast Club this morning. A hungry child cannot learn well, and in the current economic climate, parents are struggling to make ends meet. As a school, we want to support our families. The Greggs Foundation has worked with the school to promote healthy breakfasts for all, and we are thrilled to now be sponsored by Blackburn-headquartered EG Group."
Around 100 schoolchildren attended the launch, along with parents, volunteers, teachers and some of our own representatives.
Salim Hasan, UK Country Manager who attended the launch for EG Group said: "EG Group has humble beginnings in this very community and it has been built into the thriving international business it is today through sheer hard work, determination and resilience."
Javid Patel, Development Manager for EG Group added "We look forward to developing this partnership with St. Antony's and hope to continue promoting the importance of healthy living and a solid education to as many people and communities as we can reach. We are very proud that our first breakfast club launch is also in Blackburn."
This is exactly the attitude we endeavour to instil in our pupils at St Antony's; it is this strong work ethic that makes anything possible. This inspirational company will now provide a healthy start for our pupils so that they can go on to succeed and achieve every day."