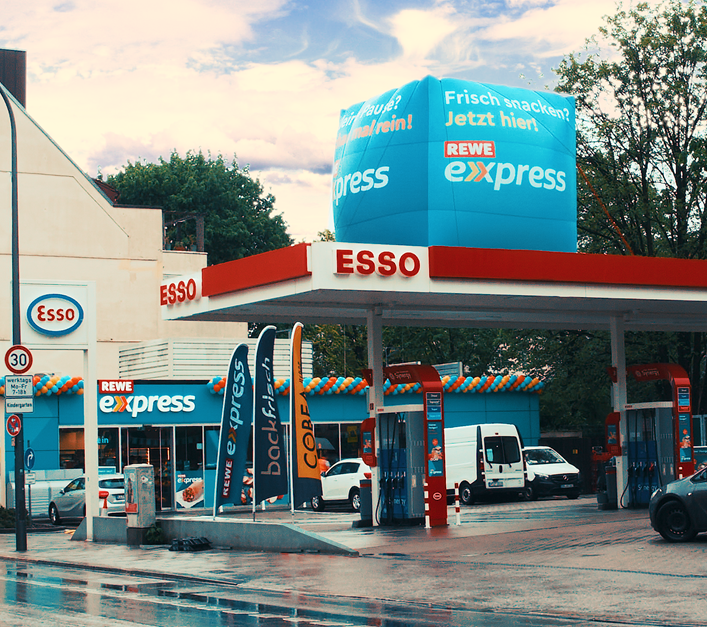 Partnerships
EG GROUP AND REWE LAUNCH NEW REWE EXPRESS
EG GROUP AND REWE LAUNCH NEW REWE EXPRESS
EG Group is pleased to announce that it will be partnering with REWE on a brand new retail concept store, REWE Express.
Founded in 1927, REWE is a leading German food retail company with circa 3,700 stores. The partnership will launch across four Esso Petrol Filling Stations in Munich and Freiburg with the first store opening today at the Esso station on Ungerer Str. In Munich. The remaining locations are set to open in early July.
REWE Express is a convenience store and a food-to-go concept designed with the growing on-the-go market in mind. The store is aimed at customers who are short on time and want to use their visit to a Petrol Filling Station not only to refuel, but who also want a quick and convenient shopping location.
The locations will also include the expanded 'COBEA' and backfrisch' concepts. COBEA Urban Coffee is REWE's own coffee brand which aims to give customers a unique big-city feeling that exudes energy and internationality. backfrisch is REWE's baked goods brand which serves freshly prepared healthy baked goods, both sweet and savoury.
Volker Friedemann, Country Manager for Germany, EG Group, said: "The REWE Express concept is an opportunity for us to serve the growing on-the-go customer base by offering a best-in class retail destination which caters to multiple shopper missions. The vast product offering of REWE Express is tailored to mobile customers to meet the desire for high-quality products for now and later."