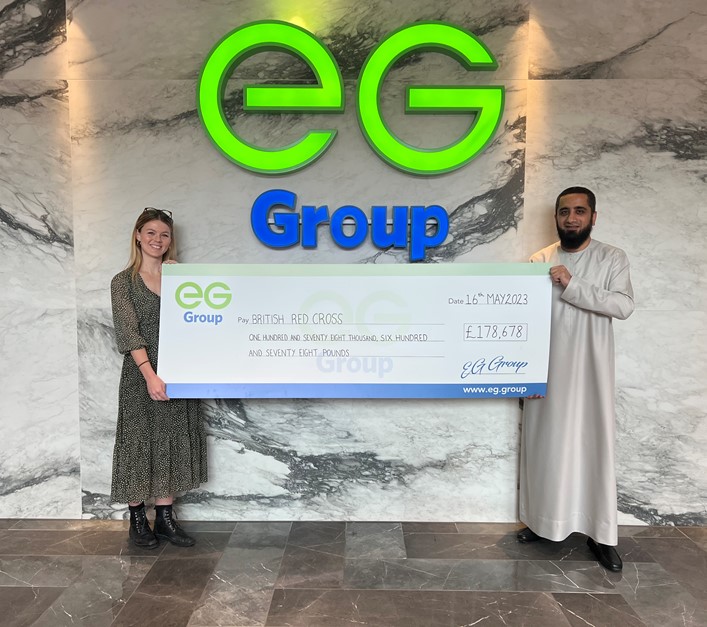 Partnerships
EG GROUP RAISES £178,000 FOR THE BRITISH RED CROSS AND ANNOUNCES NEW CHARITY PARTNER
EG GROUP RAISES £178,000 FOR THE BRITISH RED CROSS AND ANNOUNCES NEW CHARITY PARTNER
EG Group is pleased to announce that it has raised more than £178,000 for the British Red Cross, part of one of the world's largest humanitarian networks, following a four-month partnership.  
For the last 150 years, the British Red Cross has helped millions of people in the UK and around the world get the support they need when crisis strikes. With a focus on people's needs, their support covers three key areas – disasters and emergencies, displacement and migration and health inequalities.
In response to the tragic events of February 2023, EG Group donated £100,000 to the Turkey – Syria earthquake emergency appeal, with colleagues pledging to raise a further £25,000. A collective total of over £154,000 was donated to the British Red Cross as part of EG's efforts in supporting the appeal.
Throughout the partnership, EG's UK sites were made fully available for collections, with several events held at EG's Waterside Head Office in Blackburn, including a bake sale, a Valentines Day fundraiser and a World Book Day celebration to raise awareness for those impacted by the earthquakes in Turkey and Syria.
EG Group also partnered with the Red Cross across its other operating markets including Italy and the United States who raised a collective total of over £503,000.
Mohamed Valli, Foundations & CSR Manager at EG Group, said: "We are proud to have donated a substantial amount to the Turkey – Syria emergency appeal, which could not have been possible without the generosity of EG colleagues. The remaining funds will support several initiatives in the UK, including crisis response, refugee support and restoring family links. We are thankful to our colleagues and customers for their unwavering support."
Kerry Threadgill, Regional Fundraising Manager (North & Midlands) at the British Red Cross, said: "We would like to thank EG Group for their kind donation to the Turkey-Syria Earthquake Appeal. This donation will help us continue to support people who have lost everything they hold dear because of the earthquakes with food, water, clothing, first aid and healthcare provision and mental health support. Funds raised by EG Group for our work in the UK will help anyone, anywhere get the support they need in a crisis."
EG Group is also pleased to announce its second charity partnership of 2023 with Macmillan Cancer Support. The money raised throughout the partnership will be used towards supporting cancer research across the world.