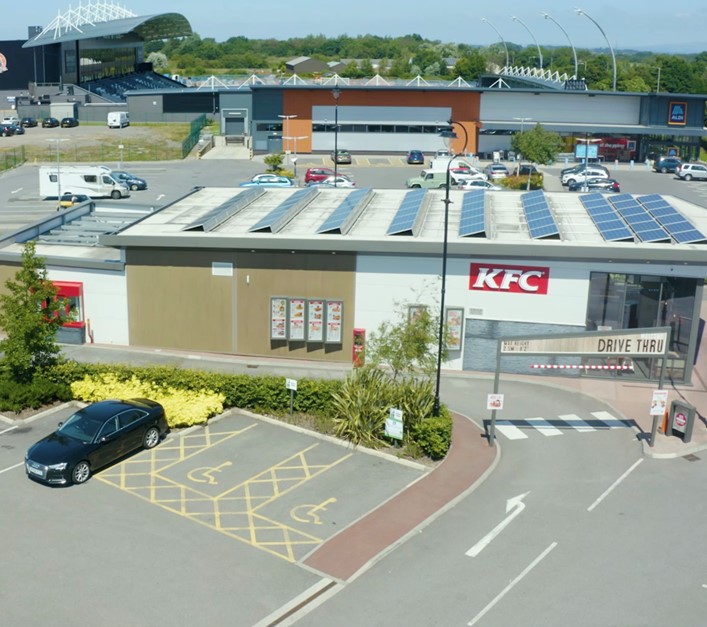 Achievement
Euro Garages 1st KFC Drive Thru Opening
Euro Garages 1st KFC Drive Thru Opening
Euro Garages has announced the opening of the first KFC drive thru restaurant at Mill Farm in Wesham (part Mill Farm Sports Village development) on Monday, 13th March.
Mill Farm Sports Village is an ambitious leisure and retail development on the Fylde Coast with access to the A585, near to Junction 3 of the M55. The consumer catchment population is 118,000 within a 10km radius; boosted by hundreds of thousands of visitors to the area each year.
The Mill Farm Sports Village development site includes a 6,000 capacity football ground for AFC Fylde, a sports science facility and associated external sports pitches. There is also an associated commercial development that includes an Aldi food store and a 100,000 sq ft distribution centre for Trilanco, one of the UK's leading wholesalers. The KFC drive thru restaurant development is part of £3.5m investment Euro Garages have done which incorporates a BP petrol station, convenience store and Greggs bakery concession.
Iain Fisher, Brand Manager joined Euro Garages back in December 2016 and is working closely with KFC UK & Ireland to identify and explore new development opportunities. Having an established management pedigree in KFC for nearly 15 years as a Regional Director, we are confident with the wealth of experience he brings to help deliver the KFC brand standards and consumer experience.
Iain expressed 'Since joining Euro Garages,  we have been working tirelessly to get our first KFC drive thru open. Today is a special day for me and the whole team who manage and operate KFC Wesham (Mill Farm) drive thru'.
He added 'The restaurant with drive thru has created over 40 full and part time jobs and is proving to be a success with locals and people travelling in and around the area. We are planning to invest, open and operate a further 30+ KFC restaurants across the United Kingdom by 2020'.